The North Dakota Student Association is led by a team composed of six executives. The President, Chief of Staff and three Vice Presidents are elected directly by the General Assembly during the April meeting each year. The Chief Administrator is appointed by the NDSA President and confirmed by the General Assembly.
Christopher Scott
President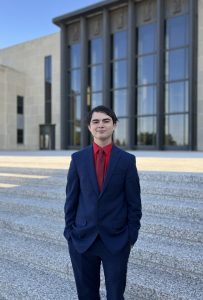 Christopher Scott serves as the 2022-2023 President of the NDSA. He is responsible for chairing the General Assembly meetings and the executive functions of the organization. Christopher's goals for the NDSA include looking at ways to increase transparency within the organization, as well as methods to increase student engagement. He also wants to continue expanding the Green Bandana Project across the state, and to develop a new sound and solid strategic plan that the NDSA can rely upon for years to come! Christopher has been a part of the NDSA for four years and has previously served as the Vice Chair of the 2019-2020 Civic Engagement Taskforce, Co-Chair of the 2021-2022 Green Bandana Project Task Force, and as the 2020-2021 and 2021-2022 Chief Administrator starting in January 2021. In his time in the NDSA, he has never missed an NDSA meeting!
Christopher is a Super Senior at Minot State University and is majoring in Chemistry. After graduation, Christopher plans to attend UND for a B.S/M.S combined Physics degree with a graduate degree in Public Administration or a degree in Political Science. He hopes to one day work for NASA, or in the Space Industry. Christopher is a native of Minot, ND and loves to read manga, video games, politics, and is a huge Doctor Who fan, having watched all 39 seasons!
Email: christopher.m.scott@ndus.edu
Gina Burtness
Vice President of Finance and Operations
Gina Burtness serves as the 2022-2023 Vice President of Finance and Operations. She is responsible for chairing the Internal Affairs Committee and managing the budget and financial decisions of the organization. Gina served as VCSU's head delegate last year, and this academic year will be her fourth year as a member of the NDSA. While serving in this role, Gina strives to ensure every student voice is heard while encouraging input and innovation at every step of the way. She is passionate about student representation and wants to ensure that student funds are being utilized to the fullest capacity.
Gina is originally from Devils Lake, ND and is currently a senior at Valley City State University studying for a double major in Business Administration, with a concentration in Accounting & Finance, and Software Engineering. Gina plans to join the workforce as a liaison between the fields of Technology and Business. Gina enjoys reading, camping, and spending time outdoors.
Email: gina.burtness@ndus.edu
Grace Reep
Vice President of Governmental Affairs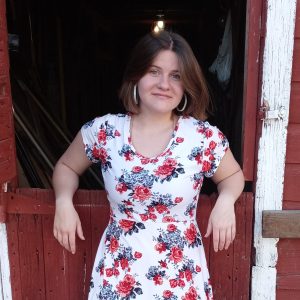 Grace Reep serves as the 2022-2023 Vice President of Governmental Affairs.She is responsible for chairing the Student Legislative Affairs Committee and working with the state's legislative agenda to represent student interest. This committee works to protect and promote student voices around North Dakota. Grace previously served as the Director of Governmental Affairs before being appointed to the position of Vice President of Governmental Affairs. As the VPGA, Grace hopes to increase legislative accessibility to all students within the NDUS by providing a place to voice concerns and learn how to get involved at the state level. Grace hopes to get more students involved in the State Legislative Affairs Committee and remove any barriers between students and the legislation that affects them.

This is Grace's second year as an active member of the NDSA. Grace is from Dawson, Minnesota, and is currently a second-year Liberal Arts transfer student at North Dakota State College of Science. After graduating, Grace is planning to go on to Valley City State University to get a degree in high school History Education. Grace enjoys making jewelry, dyeing her hair, and going on as many walks as possible!
Email: grace.reep@ndus.edu
Precious Dada
Vice President of Communication
Precious Dada serves as the 2022-2023 Vice President of Communication. She is responsible for chairing the Student Affairs Committee and coordinating the communication strategy for the NDSA. With her position, Precious hopes to increase public awareness of NDSA and to reach more people throughout the North Dakota University System. Precious has previously served as the Director of Public Relations (2021/2022) and Director of Diversity and Inclusion (2020/2021) for the NDSA. At her institution, Precious has been awarded the certificate of a bronze pin through the National Residence Halls Honorary for providing leadership and direction to her campus organization.
Precious is a third-year student at the University of North Dakota studying Health Studies and Administration/Management with minors in Communication and Psychology, as well as a certificate in Leadership. Precious hopes to earn a Masters degree and work for a non-profit organization after her undergraduate education. If she had to pick one thing, Precious would eat rice for the rest of her life.
Email: oluwanifesim.dada@und.edu
Adelyn Emter
Chief of Staff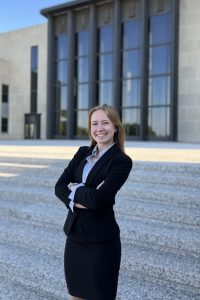 Adelyn Emter serves as the 2022-2023 Chief of Staff for the North Dakota Student Association. The Chief of Staff is responsible for communicating with head delegates and managing executive operations. This is Adelyn's third year with the NDSA, and she previously served as UND's Head Delegate (2021-2022), organizing the highest attended in-person General Assembly meeting in years. In her position, Adelyn hopes to promote effective functioning and thorough education for delegates during the legislative session to promote active student involvement in the policy-making process. Additionally, Adelyn aims to provide all Head Delegates with the information and resources necessary to effectively reach and communicate with their student population.
Adelyn is originally from Dickinson, ND and is currently a senior at the University of North Dakota studying to earn her BS in Psychology with a minor in Criminal Justice and certificates in Forensic Psychology and Behavioral Health. After her undergraduate education, Adelyn hopes to continue to graduate school and earn her PhD in Psychology with a focus on social and political psychology. This education and research will prepare her to work with survivors of sexual violence and to engage in policy advocacy surrounding the topics of the criminal justice system, mental health, and victimization. Adelyn enjoys spending her free time reading, painting, or dancing and teaching with the North Dakota Ballet Company!
Email: adelyn.emter@ndus.edu
Jason Fincel
Chief Administrator
Jason Fincel serves as the 2022-2023 Chief Administrator for the North Dakota Student Association. The Chief Administrator is responsible for taking the minutes for General Assembly meetings and making sure the NDSA website and SharePoint are up to date. This is Jason's second year with the NDSA and he was the Director of Governmental Affairs for 2021-2022. In his position, Jason hopes to ensure that NDSA runs smoothly and efficiently by recruit talented individuals to contribute their unique abilities to the organization to help make North Dakota students' voices heard. He aims to make sure that the NDSA website is accessible to all members and is well organized and transparent. Jason plans to engage with delegates and students to ensure that they feel they are being represented well by this institution and by the executive team.
Jason is originally from Grand Marais, MN and is currently a senior at North Dakota State University studying Political Science with a minor in Public Policy. After graduation, Jason plans to get his Master's Degree in Public Policy at North Dakota State University and then work in city management and community development. Jason loves writing, reading, following international politics and skiing!
Email: jason.fincel@ndus.edu