The State Board of Higher Education (SBHE) governs the policies of the North Dakota University System. Those that sit on the board consist of seven citizen members appointed to four-year terms by the governor and one student appointed by the governor to serve a one-year term. The Council of College Faculties selects the board's non-voting faculty advisor, and the NDUS Staff Senate selects the board's non-voting staff advisor.
NDSA submits three of the most accomplished members for the governors review to appoint a student to the SBHE. North Dakota's Student Member advocates for student interests directly to the board and is able to vote on those issues.
The 2020-2021 SBHE Student Member is Erica Solberg.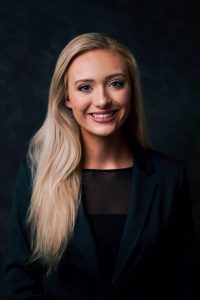 Erica is a student from North Dakota State University studying business administration and political science. After receiving her undergraduate, Erica plans to attend law school . She is a native of Bismarck, ND and has been a part of the NDSA for three years.
Email: erica.solberg@ndus.edu