The State Board of Higher Education (SBHE) governs the policies of the North Dakota University System. Those that sit on the board consist of seven citizen members appointed to four-year terms by the governor and one student appointed by the governor to serve a one-year term. The Council of College Faculties selects the board's non-voting faculty advisor, and the NDUS Staff Senate selects the board's non-voting staff advisor. Click on the link below for more information about the State Board of Higher Education.
North Dakota University System | SBHE
Annually, NDSA submits three of the most accomplished members for the governors review to appoint a student to the SBHE. North Dakota's Student Member advocates for student interests directly to the board and is able to vote on those issues.
The 2023-2024 SBHE Student Member is Sadie Hanson.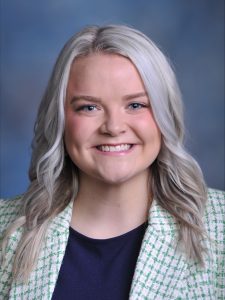 Sadie is originally from Grand Forks, North Dakota and recently graduated in May of 2023 from the University of North Dakota (UND) with two bachelor's degrees. She is currently a graduate student at UND studying to earn her Master of Public Administration. After completing her degree, Sadie hopes to either continue her education to earn her doctorate degree or work for a government entity in North Dakota. Sadie has been a member of the North Dakota Student Association since February of 2020 and is actively involved in Student Government at UND. While serving as the Student Member of the State Board of Higher Education, Sadie hopes that in her second term she can visit each NDUS institution again and actively use her experience to represent the students within the NDUS.
Email: sadie.hanson@ndus.edu